Featured Item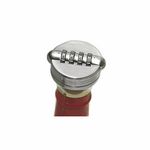 Solid Stainless Steel Combo Liquor/Wine ...
Perfect for securing premium wines and spirits. Locks up a bottle so that only the combination holder can reopen it. Instructions for using and changing the combo are included. 2 3/4" H x 2" Diameter
$14.34 - $17.58
Welcome to the Bunkhouse at Blue Horse Promotions!
Please, come on in, take a look around; but do watch your step (Buford has been on the loose since last Thursday)! Our stable is full of advertising and promotional products; but without our reputable Customer Service, you'd be just a wagon without a horse! We'll help you with item selection, colors, artwork - whatever it takes to turn your ideas into reality. Please call or email with your questions or ideas. We'll be sure to get right back to you.